Tired of sprays that smell too strong and are full of potentially harmful chemicals? Let UV light be your friend, to get the dirty job done.
Let's face it, you have a cupboard full of spray bottles to keep your counter tops, tables, keyboards, sofas, and other surfaces clean… but they take up space. And most of them aren't exactly great for the environment.
They're useful, no doubt, but you may have thought that there must be something more advanced you could be using to keep things clean.
Wonder no more, for the future is here. Ultraviolet light is used in hospitals to sanitize medical equipment for one solid reason—it gets the job done. And you can now use it in your own home. Yes, technological advancements are meant for you too.
How does it work? UV-C light destroys the very DNA of germs, making it impossible for them to reproduce, annihilating everything in its path, from fungi to bacteria and viruses.
This article was updated on April 16, 2020 with new product recommendations. In light of COVID-19, you may be wondering if these devices are FDA approved. The short answer is no and most of these manufacturers do not make mention about FDA approval. Some confirm that these products have not been evaluated by the FDA and are not intended to diagnose, treat, cure, or prevent any disease or health condition. You can learn more by reading about the FDA's Enforcement Policy for Sterilizers, Disinfectant Devices, and Air Purifiers during COVID-19 here.
Check out these 4 gadgets that harness the power of UV light:
Our top recommendation is Pure Enrichment's PureZone 3-in-1 Air Purifier. Featuring a 3-in-1 true HEPA filter, this purifier will clean and sanitize your air from 99.7% of dust, pollen, pet dander, smoke, and household odors. More importantly, it's equipped with a built-in UV-C light to add greater protection by destroying illness-causing microorganisms. Still not convinced? Not to worry. It comes with an industry-leading 10-year warranty and a 7-day customer care support system to give you peace of mind and make you take the leap.
This air sanitizer uses UV-C light to help kill airborne viruses such as influenza, staph, rhinovirus, and works with titanium dioxide to reduce volatile organic compounds. Manufactured by Germ Guardian, this is a pluggable unit designed to provide cleaner air while working to reduce germs and household odors. There's no filter involved, and you will have to replace the UV-C light bulb every 6 to 8 months, depending on use.
This air sanitizer from Bio Shield works to kill bacteria, viruses, and more by cleaning and sanitizing your air with UV-C lamps manufactured by Phillips. Now, this isn't a simple plug-and-play unit like other options presented here. Instead, you'll have to install this into your HVAC ductwork. But along with killing contaminants and germs, this air sanitizer works to lower your HVAC energy costs by improving heat transfer and increasing net cooling capacity.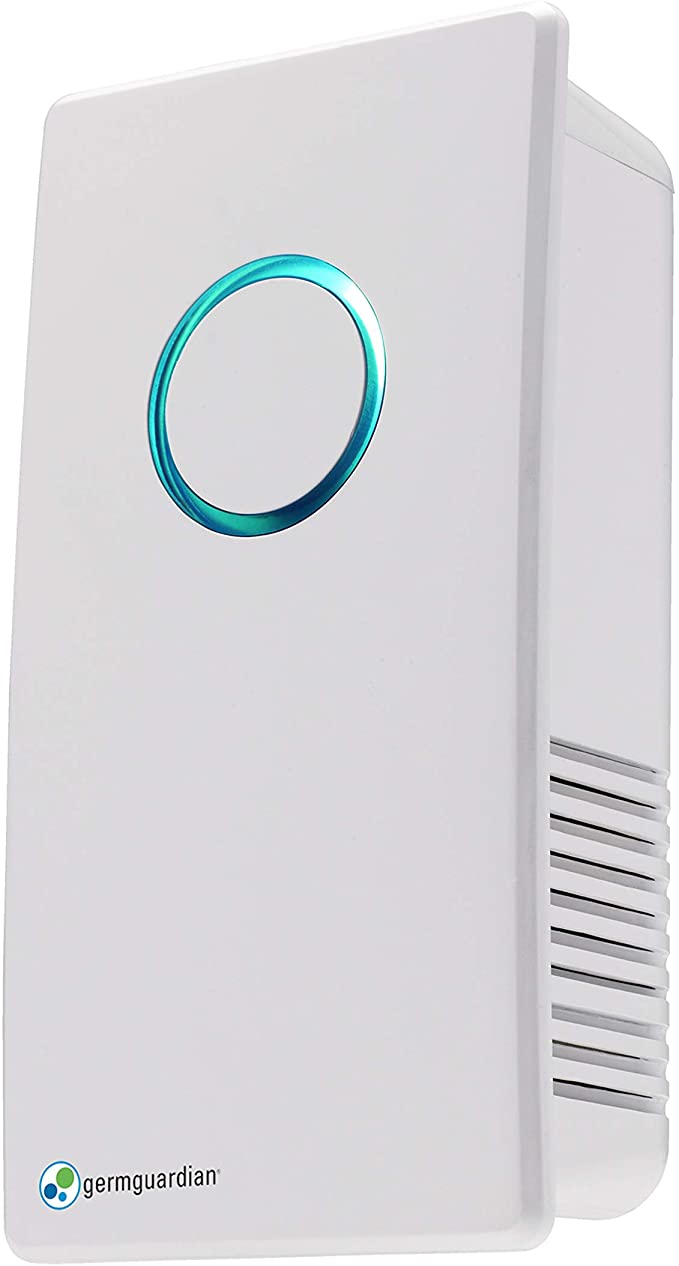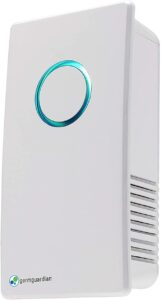 Another option from Germ Guardian is the Elite Pluggable UV-C Sanitizer, which uses the same UV-C technology to purify the air in your home as the previous air purifier and sanitizer. Simply plug it in where it smells most—or anywhere really—and let the fan pull the air in through the device. It's a compact device, measuring just 7 inches and is a good alternative to our other Germ Guardian recommendation if size is an issue. In addition, this too doesn't contain a filter, its UV-C light bulb requires replacement every 10 to 12 months.