Protect your eyes when you're out on the trail.
Nothing can ruin an awesome trail ride faster than getting something in your eye. Dust, dirt, mud, bugs, and tree branches all seem to have a natural attraction to your eyes, especially if you're not wearing goggles. Granted, you should always wear a helmet and goggles. While we've covered which helmets are the best out there, even on a budget, let's take a few minutes to discuss wearing goggles that are up for the task of protection.
What makes a good goggle? For starters, they have to fit your face. If you've got a small head, or you're buying a pair for your kids, youth goggles are the right size. If you wear glasses, get an OTG setup. Also, vitally important is the foam. The foam makes the seal to keep dust and such out of your eyes. Weak foam lets dust in. And then there's the lens. Scratch resistance is important. You can also pick different tints to help on sunny days. Taking all these factors, here are our 5 best ATV goggles you can choose from for your off-roading fun.
Fly Racing makes some of the best equipment available and its Zone Goggles are no exception. They have a polycarbonate lens that is coated for fog and scratch resistance. The lens also has tear-off studs for added protection. The woven strap has silicon on the inside to keep the goggles positioned on your helmet. There is multi-layer foam to keep the goggles firmly positioned on your face and to keep mud, dust, and sweat out of your eyes. The best part is the price, as you can get these sweet goggles for less than $30!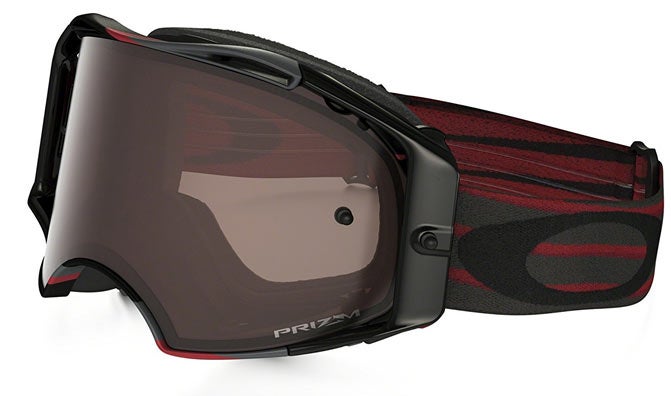 The Airbrake system is a major advancement in goggle technology. This system includes the switch-lock system which lets you swap out lenses extremely fast, and use multi-density foam for comfort. Then Oakley upped the game with the new Prizm lenses. These lenses, made from Plutonite, have extreme clarity and help you distinguish subtle changes in the trail or track ahead of you. They are anti-fog and have an outrigger strap mount for a balanced fit. They aren't cheap, but they are sweet.

---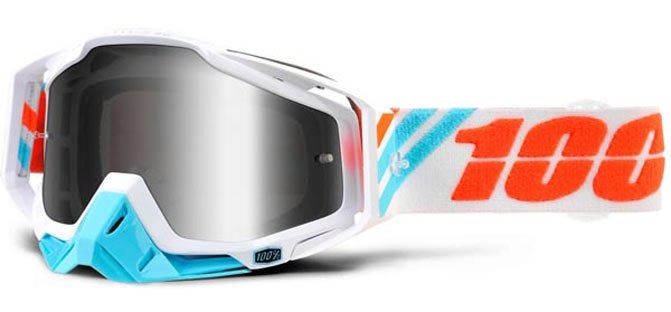 These amazing goggles have everything you'd expect in a top-level goggle — silicon strap, multi-density foam, and scratch and fog-resistant lens. What you also get with the Racecraft is a mirrored lens and a spare clear lens, all made from durable Lexan. Outriggers keep the goggles balanced when in use. A nose-guard keeps your snooter protected from roost from your buddies. You also get an extremely wide field of view from the 100% goggles. A wide range of colors lets you pick a style you like, too.

---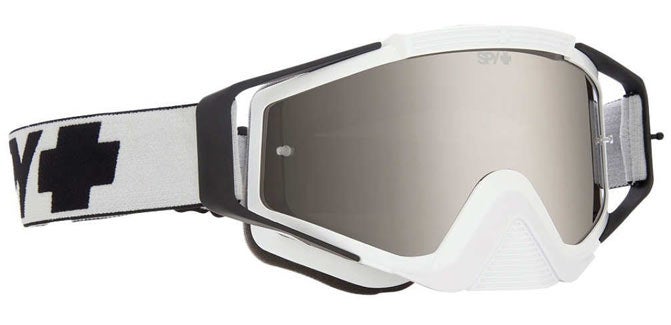 The thing that sets the Spy Open goggles apart is the Rise ventilation system. This helps keep your lens from fogging up, and air moving through the goggles, while keeping dust out of your eyes. Everything about these goggles is top notch and they even include a 10-pack of tear-offs for you to use. There are four levels of foam protection and a fleece wicking strip to keep the sweat from your eyes.

---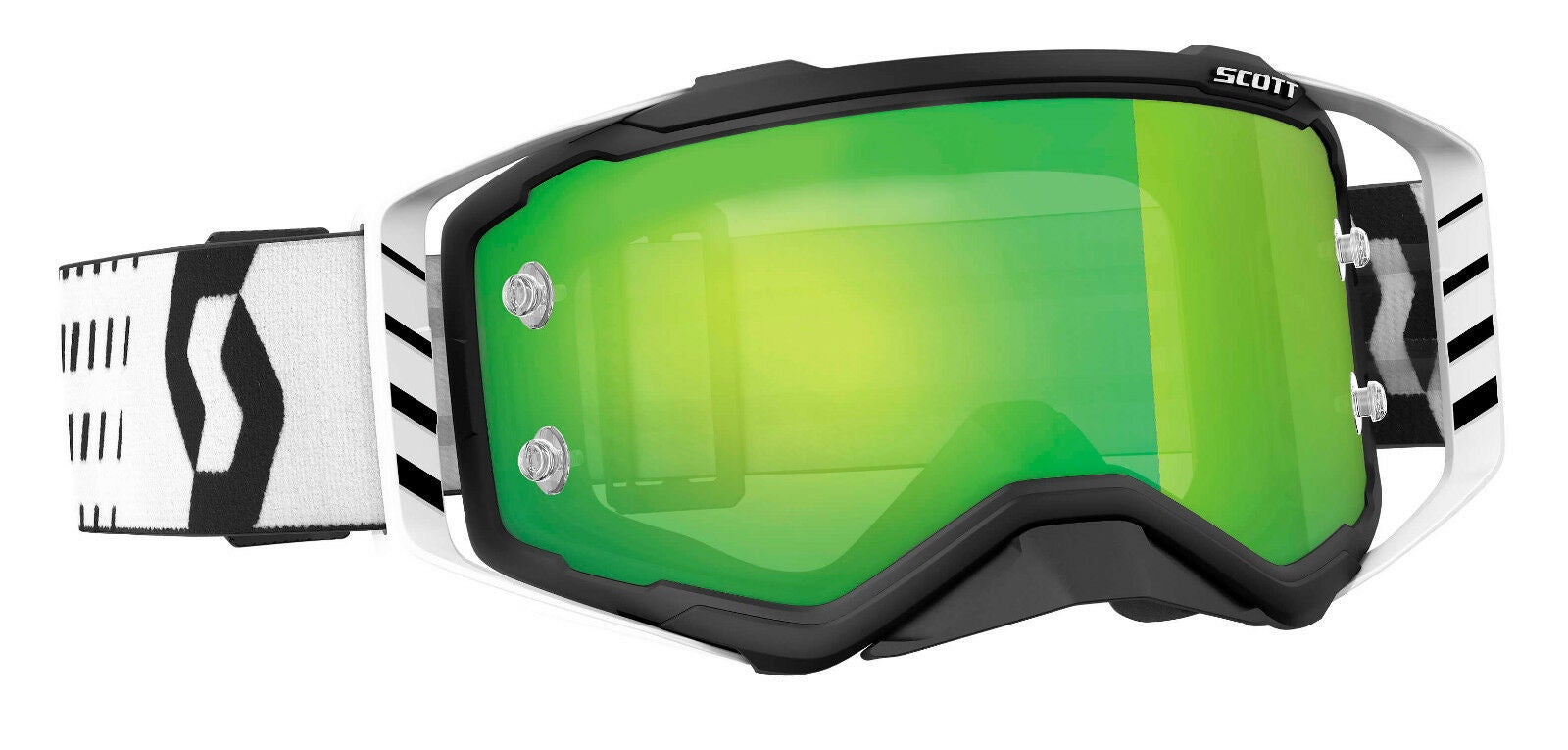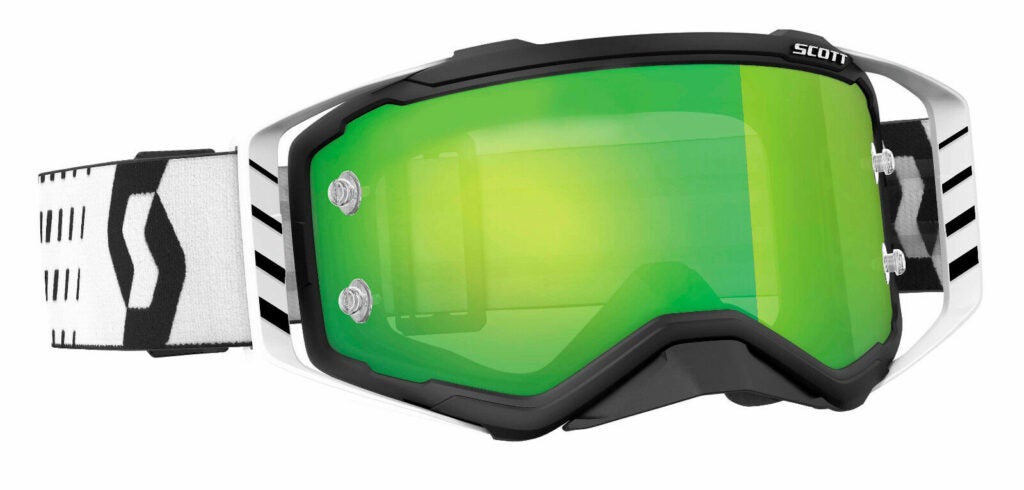 These goggles from Scott have terrific value. Not only do you get a top-shelf goggle with the Prospect, but also their roll-off vision system that lets you advance a 50mm strip of clear vision across your view when things get dirty. The goggles have everything you'd want with a wide strap, no-fog, anti-scratch lens, and multi-density foam. For under $100, these goggles are truly exceptional.